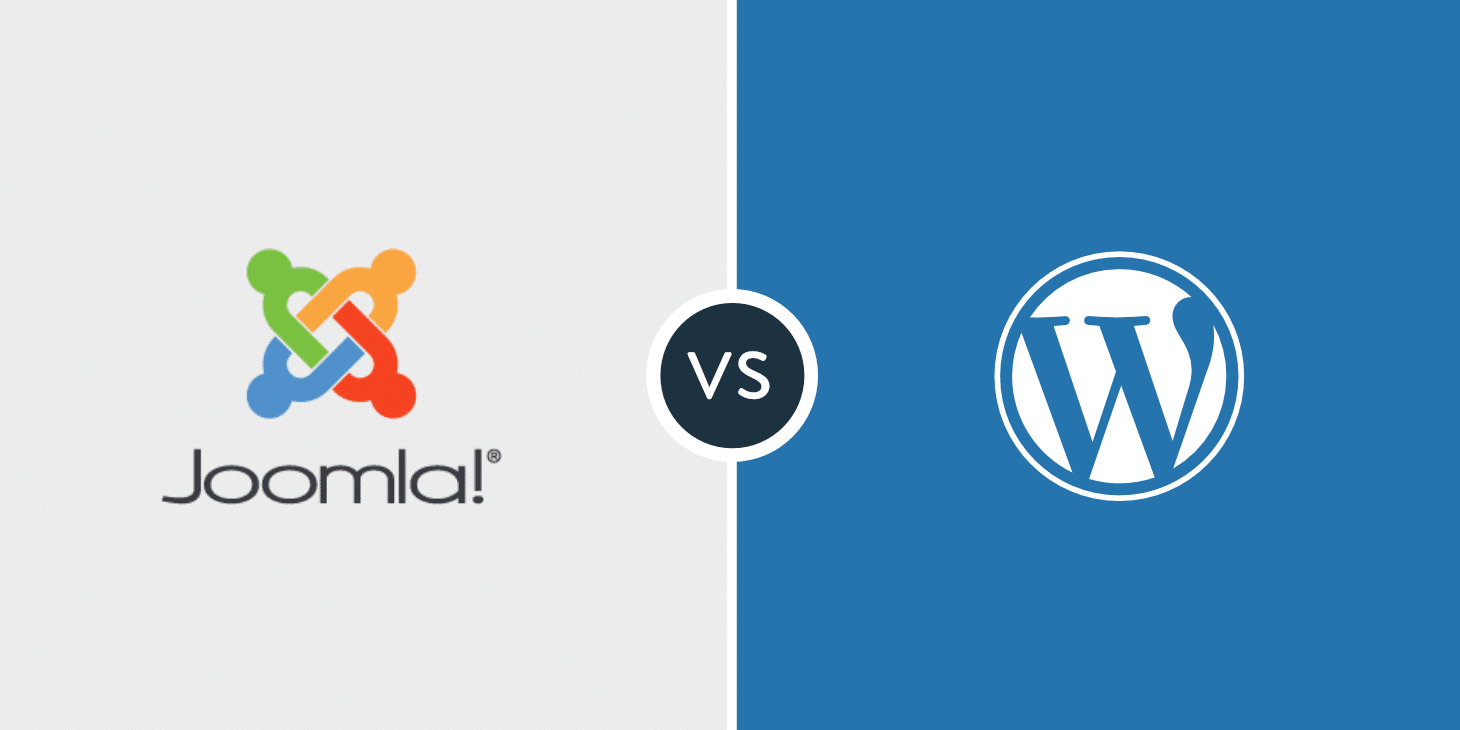 Choosing a blogging platform might not be as hard as choosing the entire content management system that allows you to do more complex web projects. Casual bloggers who don't ask for much can easily go for less complicated services, although WordPress should always be on top of the list when pondering over the platforms. But when it comes to entire content management systems that allow you to do much more than just writing posts, things become a bit more serious.
Even in that case, WordPress is still on top of the list. But in situations where you think about the whole site, its elements, and all the possibilities, some other players in the game are just as competitive. Have you heard about Joomla?
What is Joomla?
Just like WordPress, Joomla is an open source CMS that allows you to generate web content and powerful applications. It has been available since 2005, and it has been a good WP alternative ever since. Although very similar, Joomla is different from the very start – unlike WordPress, it allows several database options which are something important to tech-savvy folks. But if you're not into serious web development, those features will not mean that much to you.
Joomla powers up millions of websites. Those range from simple personal pages to complex web applications and intranets that help people connect and work locally.
It is important to know the difference between Joomla CMS (the one we are talking about in this article) and Joomla Framework that allows developers to create PHP-based applications without all the extra features that come with the CMS.
When we talk about average users, it is important to know that Joomla is beginner-friendly, updated on a regular basis, features extensive customization options and counts a massive online community that's always ready to help. Sounds like WordPress, doesn't it? But unlike WordPress that counts more than 140 million downloads, Joomla has been downloaded "only" about 60 million times. The numbers are enormous, but still not even close to WordPress.
Although the following video shows older versions of WordPress and Joomla, the basic features haven't changed that much. Because of that, the comparison is valid for the new versions of the two CMS as well.
Ease of use
Even if you are a professional web developer or designer, you want the tools to be as simple as possible. But for beginners, having a simple CMS is a must-have. Luckily, both WordPress and Joomla are quite simple to understand and start with.
WordPress
WordPress is well-known for its straightforward and fast installation process. The site can be online in just about five minutes even when it's your first. And after the initial log in, users usually don't take much to understand the basics of WordPress.
The entire system is user-friendly, so everything makes sense. There is a learning curve involved, but since most of the options and menus are in reach of your hand, you will be navigating through the admin area without problems. But if you decide that you are interested in more than simple usage, you can always come back and learn WordPress step by step.
Joomla
Joomla is quite simple as well. The installation process is very similar to WordPress', and many hosting companies feature one-click installation software. Unfortunately, similarities kind of stop here because Joomla feels more complicated to handle after that.
The control panel which lets you manage all the modules isn't that well prepared for beginners. So, unless you already know a thing or two about web technologies, we suggest that you arm yourself with patience. It will definitely take a lot more time to understand Joomla's control panel and user interface than it would take to understand WordPress.
Appearance and extensions
Today, a good content management system must feature some sort of templates and plugins that allow regular users to extend their websites without having to touch code. Both WordPress and Joomla do enable you to extend the system in different ways, but there are still some differences.
WordPress
WordPress is renowned for its themes and plugins. While free and premium themes will help anyone to build a professional looking website even without any coding and design knowledge, tens of thousands of plugins will help you add features that would feel impossible to create otherwise.
Not only there are so many items available only, but as we move forward, those same items are becoming more complex. Certain WordPress plugins act like systems on their own and go way outside the original idea of WordPress. So besides sites and simple blogs, you can create entire eCommerce systems, customer relationship systems or photography portfolios, to name a few.
Joomla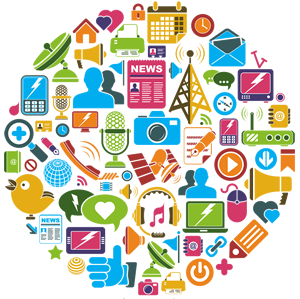 Joomla doesn't fall far way behind. It also offers templates and extensions that can help you achieve many things on the web. But simply because it is less popular than WordPress, there are quite fewer templates and extensions to be found.
On the other hand, the same add-ons that you can get are a bit simpler than WordPress counterparts.
Content Management
Even if your sole purpose of starting a site is not blogging, you will probably want to manage a blog at some point. It will help you attract more visitors to your site and let you connect with the audience.
WordPress
From creating and publishing posts and pages to managing different media files, WordPress knows how to please its users. It won't matter much if you are a casual blogger a marketing expert – managing content with WordPress will be intuitive and simple. If you love what you write about, you will be happy to log back into the system to start another post with its beautifully designed Visual editor.
Joomla
Joomla is intended for more complex web projects. Because of that, we can't say it's quite apt for blogging. While it is possible to run a successful blog with Joomla, the chances are that you will have a harder time managing one in the long term.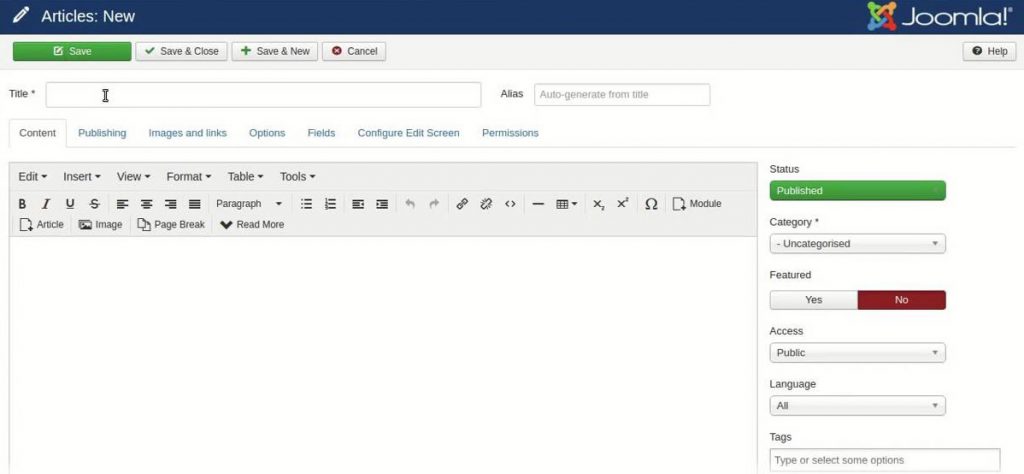 Even some experts on Joomla run their blogs on WordPress. Because of that, we suggest that you forget about blogging with Joomla and start fresh with WordPress instead. You will save time, money and your nerves.
Support
WordPress
Official support pages can help you get started with WordPress. You can read documentation files that will explain basics, and you are always welcome on support forums that count thousands of active users. All of that is, of course, free but you will have to do the work and research the problem you're experiencing.
If you need more professional support, you won't find any official emails or phone numbers. But you can always hire maintenance services to do the job for you. The truth is that most of the users use free forums, social media groups, and online resources when it comes to support.
Joomla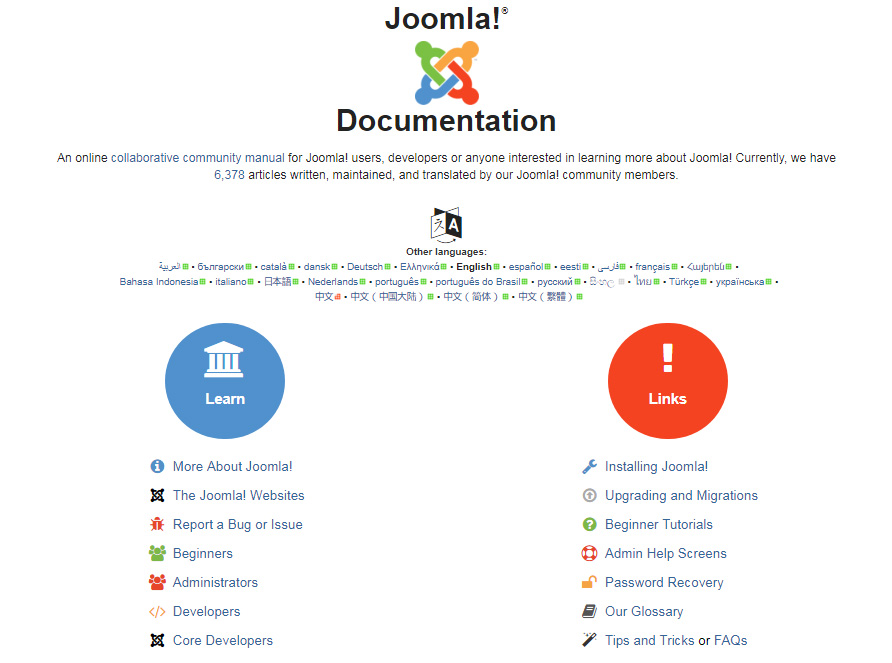 Although as not as popular as WordPress, Joomla still counts tens of millions of active users. So it doesn't surprise that it has got an active community. Finding help in form of tutorials and various articles and videos won't be a problem. Also, there's quite a nice number of lively forums where you can ask for help, but for starters, you should check the official support page.
But unlike WordPress, it is hard to find Joomla experts who will do different customization tasks for your site.
Security
It doesn't matter how beginner-friendly is one CMS or how well supported is the other one if none of them are secure enough. Luckily, both WordPress and Joomla got you covered in this field.
WordPress
WordPress is the most popular CMS in the world. Unfortunately, that also means that is the first target for hackers that look for random websites. Despite that, WordPress is safe. The developers have made it sure that the code is as secure as possible. In addition, you can expect frequent updates that keep the system safe all the time.
The important factor in security is the human behind the site. Most of the times, it's up to you keep things safe and hidden from the noisy eyes. Among thousands of plugins that we mentioned, WordPress users can feel extra safe if they extend the CMS with security plugins. There are hundreds of security-related plugins that will help you protect your website.
Joomla
Joomla isn't very different when it comes to security. The developers are always hard working on new updates and fixing security issues on time. Just like WordPress, some great security extensions will help you with the site, but also keep in mind that the user is responsible for the security of his domain.
Multilingual sites
Having a site in more than one language is becoming an attractive feature. Many website owners just need to have the content in two or more languages to satisfy all of the audience. Although both WordPress and Joomla allow you to create multilingual sites, they behave differently.
WordPress
WordPress does come with the option to set a language of the site at any time, but it doesn't support creating multilingual content out of the box. Luckily, there are some amazing plugins that will transform your plain website into a multilingual system that's easy to use, but you will probably have to spend a few extra bucks for licenses and subscriptions.
Joomla
Unlike WordPress, Joomla offers multilingual options from the very moment of the installation.
You just need to select an additional language and start translating the content. It is also possible to quickly change the admin area languages. And you won't have to install other extensions nor pay for 3rd party services.
Comparison table
| | | |
| --- | --- | --- |
| | WordPress | Joomla |
| Simplicity: | Beginner-friendly with a small learning curve | More complex, takes time to learn |
| Appearance and extensions: | Tens of thousands of extensions | Good number of extensions, sill fewer than WordPress' |
| Blogging: | Perfect for blogging | Not as good for blogging |
| Support: | Community, pay for support | Community, forums, official documentation |
| Security: | Frequently updated, security plugins | Frequently updated, security plugins |
| Multilingual options: | Should use 3rd party services | Great multilingual support by default |
Which one should you choose?
After a quick glance, WordPress and Joomla look very similar. In one way, that's true, but they are also different enough to make it easy to choose one for your site.
If you ask us, WordPress is the overall winner. It is definitely more suitable for beginners, yet it still allows you to expand a website into a more complex project. WordPress will let you develop the system more easily as it features a repository full of themes and plugins. Hiring maintenance services and professional designers/programmers are much easier since there are simply more people devoted to WordPress than Joomla.
On the other hand, Joomla is definitely more complex and comes with more built-in features. It can help professionals to build more complicated websites because it offers more technical options from the very start. But those same options may unnecessarily confuse newcomers. Also, Joomla isn't as good for casual blogging.
@firstsiteguide.com