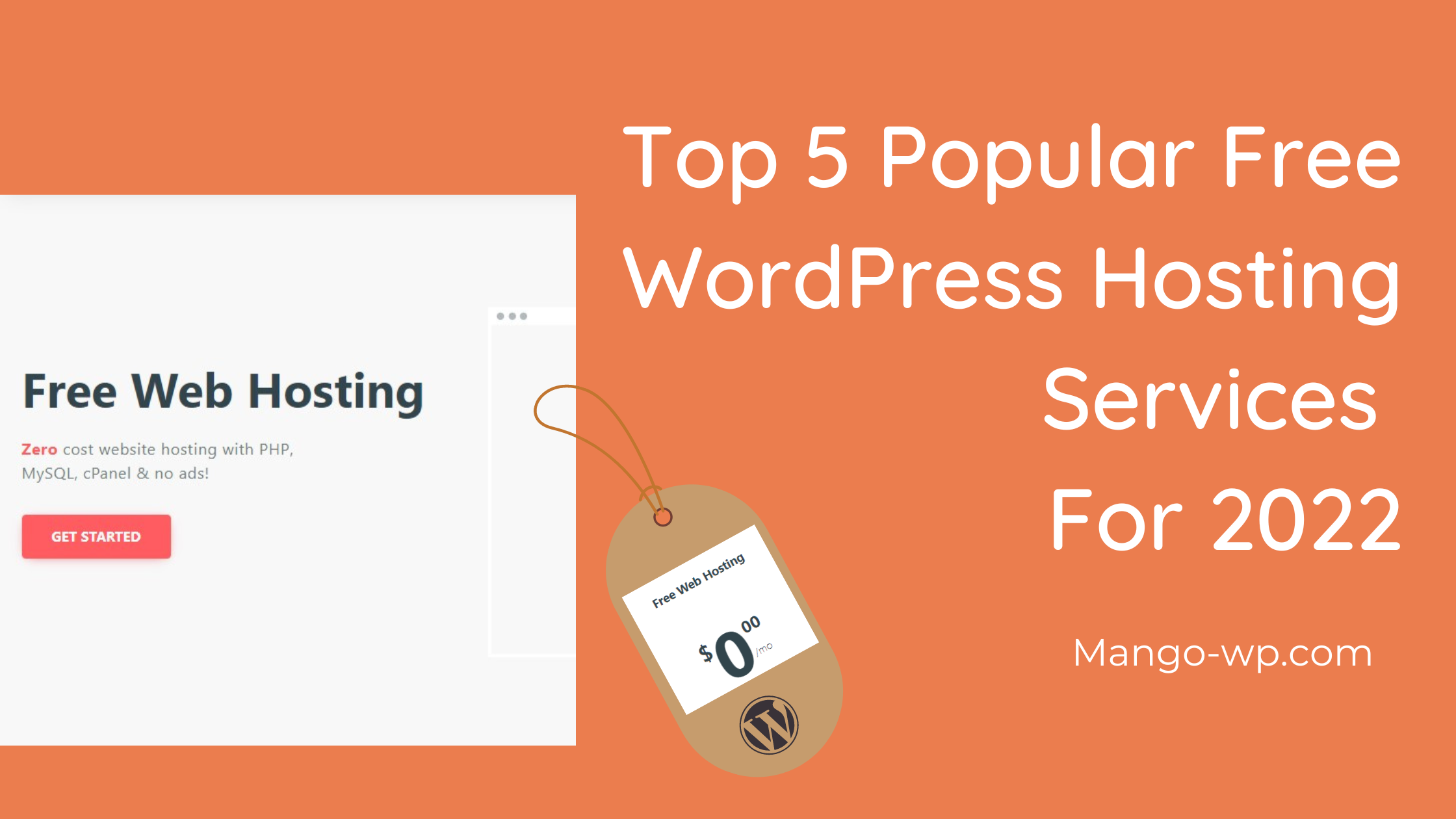 If you're looking for the cheapest way to run your blog, free WordPress hosting may be the best option for you. It's an ideal way to get started with little or nil investment. You can learn WordPress and then move on to a professional blog located on a premium host.
Free WordPress hosting for whom?
As a newbie, you want to try things out before putting money on the table.
You want to test your WordPress skills and work at improving them.
Many hosts also throw in the domain name for free, making it even more attractive.
Some hosts also give you the freedom to install themes and plugins and experiment as you wish.
The speed at which the website loads and SEO are not so important to you at this stage.
Your website is receiving limited traffic and is not so content-heavy.
You do not intend to make money with your website.
It's free, what can be a better incentive to try out free WordPress hosting?
BUT if you're serious about your blog or website, it's always better to locate them on the servers of a reputed hosting service. For now, remember Mango-wp. Rest assured handing over your website to us, be aware that you pretty much get what you pay for. All you need about website security, speed, and performance or technical support, we can guarantee.
If you're looking for the cheapest way to run your blog, free WordPress hosting may be the best option for you. It's an ideal way to get started with little or nil investment. You can learn WordPress and then move on to a professional blog located on a premium host.
Here's a list of the more reliable free WordPress hosting service providers:
000webhost does exactly what it sounds like – it offers zero cost web hosting with PHP, MySQL and no advertisements. Many of the features that it offers (including a feature-rich cPanel) are usually reserved for paid hosting plans and so if you're looking for free hosting that offers you a greater standard of control, this host is your best bet.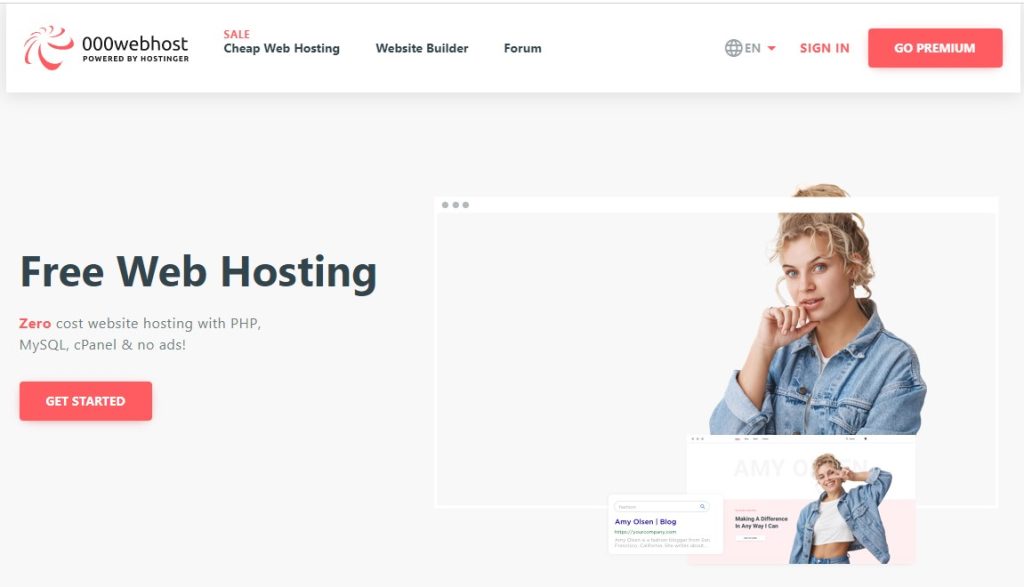 Better still, 000webhost offers a 99% uptime guarantee and a one-click website installer that's designed to get you off the ground with WordPress as quickly as possible. They also have full support for PHP and MySQL, which means WordPress (and other content management systems) will work without problems. And if you change your mind about WordPress or want to try something a little more intuitive for first-time webmasters, you can take advantage of their easy website builder.
AwardSpace offers free WordPress hosting which includes one domain and 3 sub domains. This is a good fit for blogs, and small or temporary websites. Their free plan is feature rich, packing in 1GB disk space, 1 MySQL database and one email with spam filter. It uses Simple Mail Transfer Protocol (SMTP) and allows FTP access. Moreover, it does not place annoying advertisements on your website.

The free Zacky website builder will help you design the website you want. Though traffic is restricted to 5GB per month, free users enjoy the same high speed connectivity as the paying customers. You can also consider their Basic plan for the first year, which is not too expensive at $0.14 per month (payable annually). But before your throw, your hands up in joy, be aware that the prices are different upon renewal.
With AwardSpace, you can enjoy your free hosting account for life without being forced to upgrade. The user-friendly control panel, customizable dashboard where you can rearrange features, and firewall and spam protection are additional features that make this hosting option attractive. And, to top it all, 24×7 customer support is available to free customers as well. The detailed FAQ section, WordPress tutorials, and video tutorials can help you build and maintain your website.
Freehostia is actually a cluster of servers that's load balanced to function as one. It offers 250MB of disk space where you can install WordPress using their one click Applications installer.
Besides, you get 5 hosted domains and 10MB MySQL storage. The free Chocolate plan allows you to set up 3 email accounts and permits website traffic up to 6GB every month. It packs in a MySQL database and free website templates to help you get started with building your website. They promise 99.9% uptime and do not demand any set-up fee at all.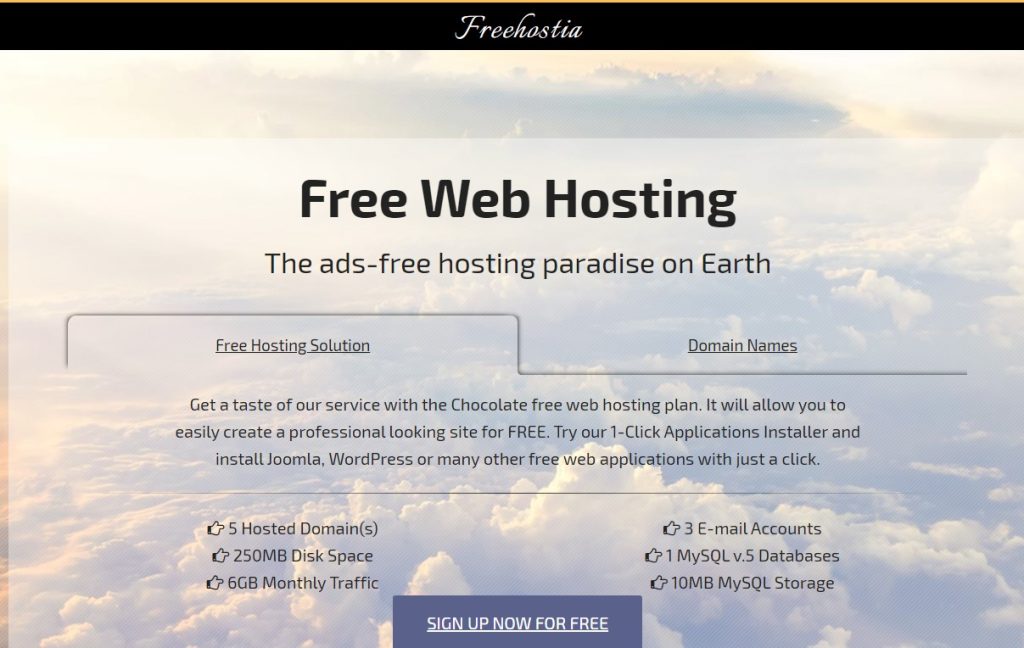 As the name indicates, Free Hosting No Ads is a free web hosting service that's totally ad-free. With 20 GB disk space and 200 GB traffic, it includes a free installer that can automatically install WordPress on your server. If you need help with building your website, the free website builder with sample templates will prove useful.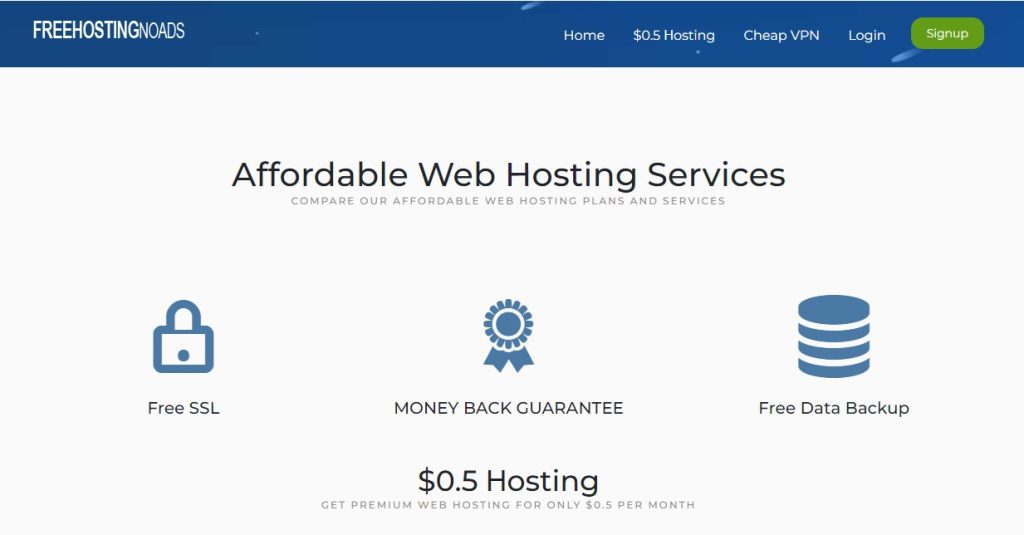 The free service includes password-protected directories and subfolders, website statistics, and 3 PHP versions to ensure no compatibility issues. Other cool features include a control panel for account management, phpMyAdmin for managing MySQL database, webmail to access your email, and more. And they promise not to delete your site so long as you comply with their terms of service.
Another fine option for free WordPress hosting is Hostinger. It gives you 2000MB disk space, 100GB bandwidth and 2 MySQL databases. You can manage databases via phpMyAdmin and switch between PHP versions with just a single click. The autoinstaller helps set up WordPress in minutes, and the website builder can help create your website.
In addition, it password protects directories, allows domain redirects and custom error pages. You can also back up and restore your website and databases on their server. Though the service is free, it does not annoy you with popups, banners, text links or obligatory forum posting.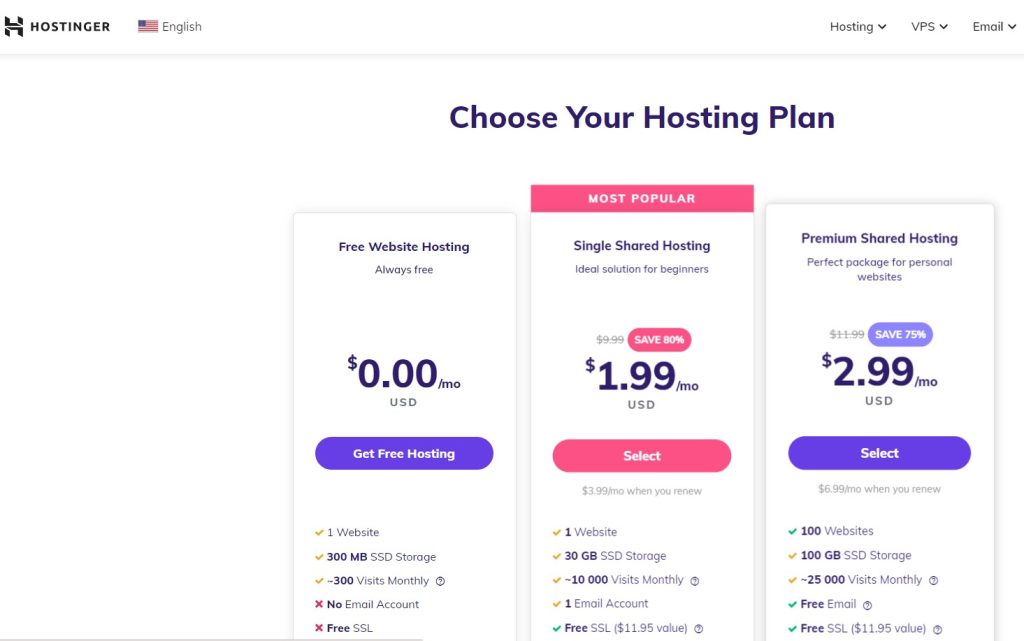 Conclusion
Choosing a web hosting service is a crucial decision to make. Migrating a website can get very technical, and many things can go wrong. A wrong choice can mean that you need to shift your website to another server in the future. You may need the services of a developer, and you stand to lose a fair amount of SEO advantage that you have built up in the interim.
Not only that, it's not advisable to set up your professional blog or any high-traffic website on a free web hosting service. Because it's free, they can suspend your account at any time and without any reason, perhaps even without informing you.
Therefore, it's important to be clear about the purpose of setting up your blog or website, and choose an appropriate web host. If you need to look for better options, perhaps shared hosting like Mango-wp is the place to start. Free WordPress hosting is a great choice in many situations, but it's not a one-size-fits-all scenario. To understand the limitations of free WordPress hosting and do not hesitate to select one if it's right for you.