Let's face it.
WordPress is powerful and can be fairly straight forward to use.
But there are certain changes that are tricky to make without code or third-party tools.
One example that a lot of people want to tweak is the ability to hide page titles (or post titles).
By default, WordPress displays the title in all posts and pages.
Now, there are certain circumstances where it doesn't make sense to display the title. For example, you may want to add it with a page builder plugin so you can customise the title, or something else.
In this post, I'll explain why you may want to hide titles for your posts and pages in WordPress, and I'll walk you through several ways to disable them.
Why you might want to hide a page or post title in WordPress
There are a few common reasons users change the titles of their posts and pages in WordPress. Let us quickly walk you through them below:
You're working on your site's homepage
If you want to have a static homepage, or in other words, not make it work like a regular feed of your latest posts, then you likely wouldn't want to have a title on that page.
Now, some themes do take care of this by removing the title when you're making a static homepage, but if your theme isn't one of them, then you will have to do it yourself.
You're making a landing page
Landing pages are the most common reason users would want to do away with the page title. This is because when people land on your landing page, they are usually aware what the page is about, so you don't need a title to tell them about it.
Further, the title is not a useful component of a landing page, and can instead be distracting for the users as it may prevent them from focusing on what you want them to see.
Similarly, a standard title usually never blends well with the overall design of a landing page, as it's extremely limited as far as the styling is concerned.
Some other pages that don't need a title
A title can turn out to be an unwanted element of your page or post on several different occasions as well. For instance, when you're making a page with a mailing list building plugin, and your sole purpose is to make users opt-in for your emails or newsletters.
You may also not want to have a title for pages where you only have a small amount of content, and placed in the center of the page. In this case, a title that's placed at the top on the left side of the page may look completely out of place.
3 ways to hide page and post titles in WordPress
Note: Before installing a new plugin or changing anything on your site, be sure to run a full backup of your site.
Now, I'll walk you through several ways to hide page and post titles:
1) The plugin method
Well, there are plugins for doing pretty much everything in WordPress, and hiding page and post titles is no exception.
Using a plugin is an easy and convenient way of hiding your post and page titles, without having to mess around with any code or spend a lot of time doing manual tasks every time you need to do it.
We recommend the plugin Title Remover by WPGurus. It's very easy to use and allows you to hide the titles of the posts and pages you want by simply clicking a checkbox it creates when you're creating a new post or go to your old posts and pages.
It doesn't interfere with the menus or the admin area like some other plugins do, or make any other unwanted design changes.
To install this plugin, hover your mouse on the Plugins menu on your WordPress dashboard, and then click on Add New. Then type "Title Remover" into the search box at the top-right of the screen, and click on the Install Now button as shown in the screenshot below to install the Title Remover plugin.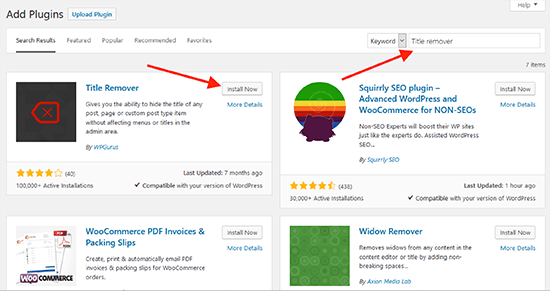 Once installed, you need to click on the Activate button that will appear exactly where the Install Now button was. That's it – the plugin has now been activated and you will be able to hide your post and pages titles when creating them.
When creating a post or a page, you will find the "Hide Title" box at the bottom of your post or page on the right. You need to click on the checkbox to hide the title for that particular post or page, as we have highlighted in the screenshot below.
Now, if for some reason you do not want to use the Title Remover plugin, you can use any of the following alternative plugins:
Hide Page and Post Title (by Arjun Thakur) – This is another fairly popular plugin that you can use to easily hide the titles of your posts and pages. Just like the Title Remover, it too allows you to hide the titles of your posts and pages with one simple click.
Generis Title Toggle (by Bill Erickson) – As the name suggests, this plugin is specifically designed for sites using the Genesis theme, which includes the Genesis child themes as well. It will not work with any other themes though.
All said and done, please note that using a plugin for hiding titles would only work if your theme using the recommended function. This function is responsible for displaying titles in your posts and pages, and it's needed for plugins to be able to do their thing and hide the titles for you.
Most themes do use this function, but there are some that don't. In case your theme doesn't have this recommended function, then you will need to contact the developer of your theme to see if they have a solution.
Or, try one of the other options below.
2) Leaving the title blank
Yes, hiding the titles of your posts and pages can be as simple as simply leaving the title section blank when making a new post or page. You can also go back to your old posts and remove their titles to hide them.
While this method is as easy as it can get probably get, it's not the most convenient. This is because unless you use a preset permalink structure, you would first need to create the permalink by writing a title, and then removing it.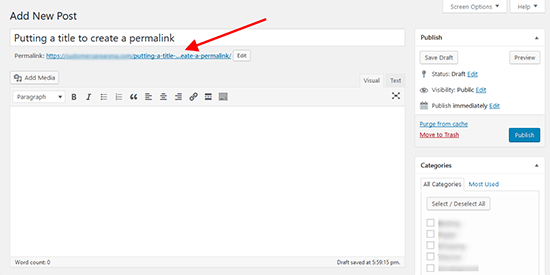 Alternatively, you can click the edit button to the right of your permalink.
Now, once you have your desired permalink, you can remove the title and the permalink will still be there.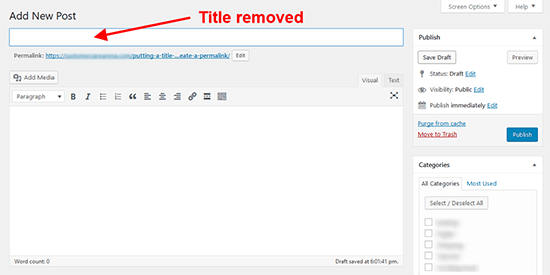 You may want to have a title for Google though. This would be needed in case you want to optimize the page for ranking higher in Google, but don't want to show any title to the visitors that read it.
In that case, you can use an SEO plugin such as All in One SEO to set an SEO title that will only be displayed to Google, and not be shown to your readers.
Here's an example: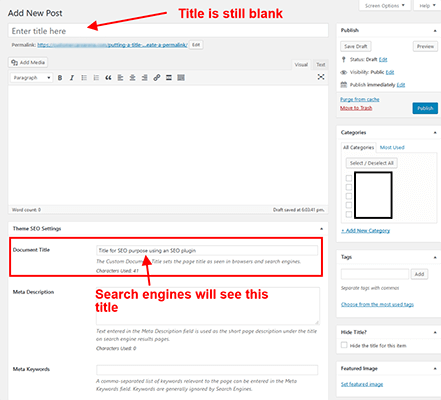 3) Use a page builder that has the option built-in
As we discussed above, the most common reason for users not wanting to have a title in their page is when making a landing page or specific, customized pages. And most people that make these kind of pages use some of the most popular landing page plugins or page builder plugins.
A simple way to remove or avoid having a title when making a customized page is to use a WordPress page builder plugin that has a feature that allows you to do this.
Let us take Elementor as an example here, which is one of the most versatile page building plugins for WordPress.
If you're using Elementor, you can easily remove the title with just a single click. Of course, you will first need to install it the same way we explained above for the plugin method before being able to use it for making landing pages and removing titles.
There's also a pro version of Elementor that comes with a ton of additional features like the ability to have an opt-in form, access to extra templates, theme templating and more.
However, for the purpose of making simple landing pages and removing titles, even the free version would work just fine.
Once you have Elementor installed on your site, you can then go to the particular page or post you want to remove the title for, and click on the Edit with Elementor button, as we do below.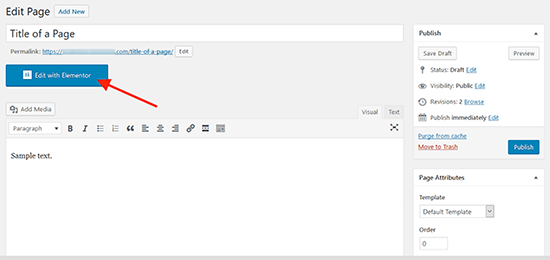 The below image shows what this page looks like. We have underlined the title for you, so that you can see it's still there.
To remove this title, click on the tiny settings icon at the bottom-left of the page, which we have marked as well.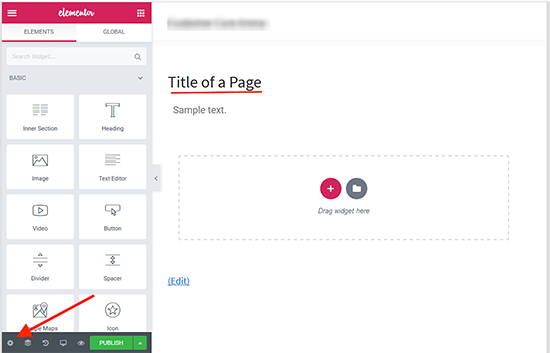 Now, on the settings page, you just need to set the Hide Title option to Yes, and you're all set. The title is now gone, and you're ready to publish your page or make any other changes.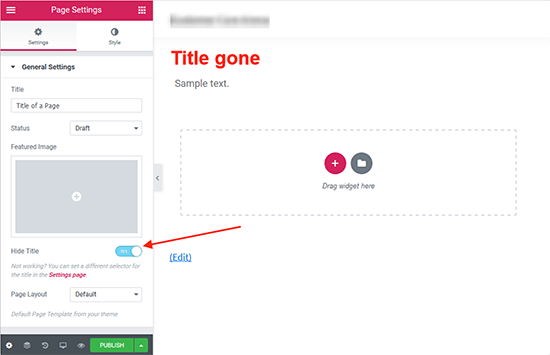 Conclusion
Hiding your page title is sometimes a necessity, especially when creating conversion focused pages.
It's also a great option if you're using a page builder plugin to design a custom layout.
For example, here on WP Superstars we designed our recommended hosting page with a page builder plugin. We wanted a centered headline for that page, but our theme aligns page titles to the left by default.
We didn't want to change this for all pages, so we used a plugin to hide the page title and added our own centered title using our page builder.
Now, you know how to the same.
@wpsuperstars.net