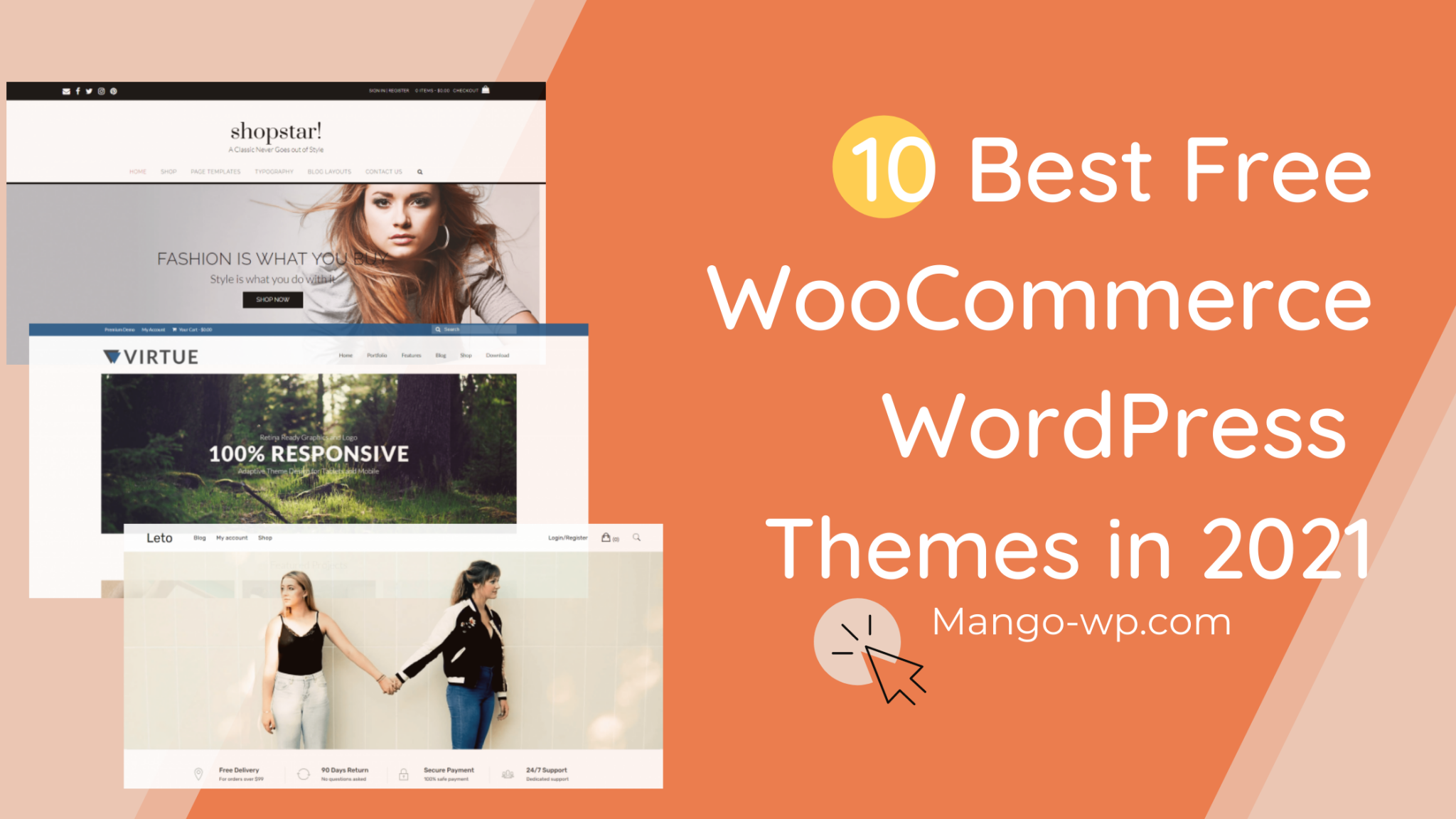 As reader of this article, you are most probably looking into opening an online e-commerce shop using WooCommerce plugin. If yes, then you MUST read this because we have come up with a list of the best free WooCommerce WordPress themes in 2021.
Best Free WooCommerce WordPress Themes
All of the themes we introduces are 100% free and ready to be used for selling digital or physical goods online:
Deep Free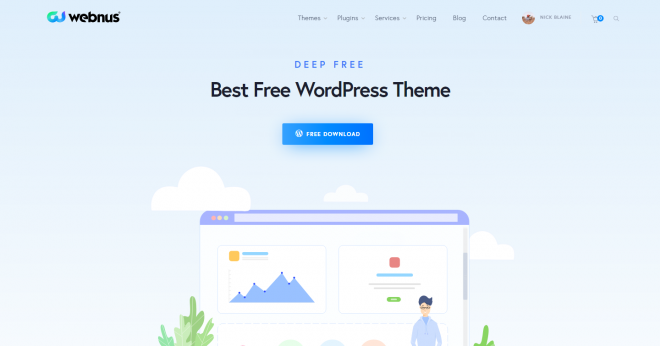 Deep is a super-fast, easily customizable, multi-purpose theme. It's perfect for an e-commerce shop, I mean a WooCommerce storefront. As a fully responsive theme, Deep will load in a matter of seconds and looks awesome on any device.
Lightweight and minimal, you can customize also anything in Deep, with its highly SEO optimized code which is always placed in top rankings of Google search results. Deep works perfectly with Elementor and WooCommerce is actually WooCommerce ready.
No need for further search. Deep is what you are seeing and it definitely is what you'll get. It has recently been published in WordPress repository and made a huge fan base, you can check Deep Free out.
Storefront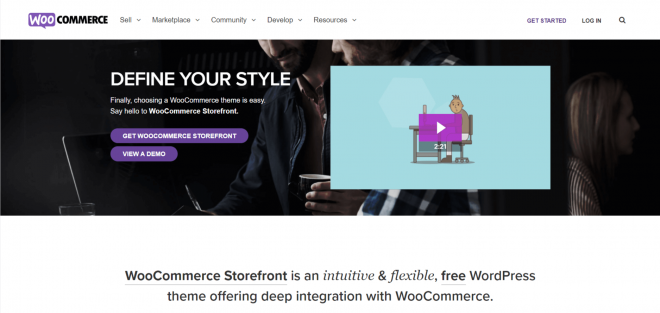 Probably one of the best free WooCommerce WordPress themes, Storefront should be the perfect choice.
Interesting to know is that it has been developed by the same team who did WooCommerce, so you can be sure it will offer perfect compatibility with the WooCommerce plugin.
In terms of deep integration, Storefront might be the best choice.
Also, Storefront, with its responsive design, is customizable and you are free to choose from numerous layout and color options along with place widgets.
However, in terms of performance, it's a bit lacking in customization options in comparison to other versatile themes.
Shopping Cart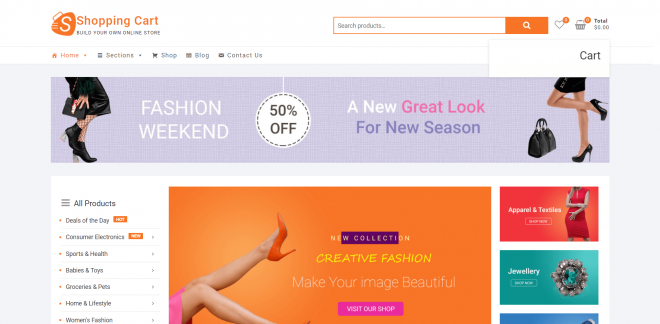 With a beautiful and elegant layout, the Shopping Cart theme includes many eCommerce widgets and front page parts you can customize using the Customizer.
Shopping Cart has a search bar on the top so your customers can easily search for the products they are looking for.
Also, you can easily add widgets to your homepage, leading customers to any specific deals in your online shop.
This theme is easily customizable, enabling you to adjust fonts, colors, etc. along with these, there are several ready pages you can use to create all the necessary pages for your store.
Shopping Cart is also responsive and translation-ready. In addition to all said, this theme supports the most popular plugins so you won't need to worry about the functionality of your store.
Leto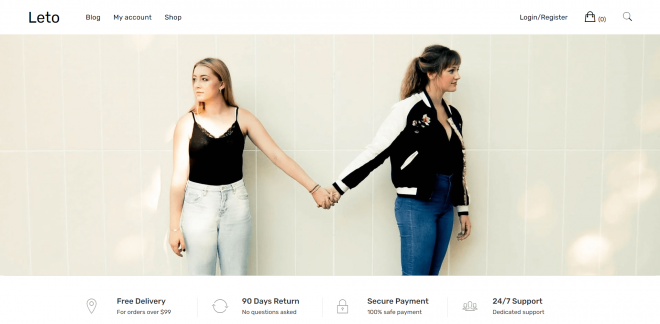 Leto features a comforting minimalist design and deep integration with WooCommerce.
If you are planning on launching your first shop, you should be aware that it can be something overwhelming, especially if your budget is not that much.
To get your online shop up and running, you'll expected to have a simple theme with some basic features. Leto could be the perfect choice.
Being able to adapt to multiple niches, this e-commerce theme is suitable for almost any kind of shop you have in mind.
Leto includes built-in widgets which help you customize your design. You can also use the Customizer if you want to change colors, set font sizes, etc.
Also, to impress your visitors, Leto's header feature can be used to showcase an image or a video.
Overall, if you want a free e-commerce theme with a simple layout and WooCommerce integration, Leto is what you need.
Astra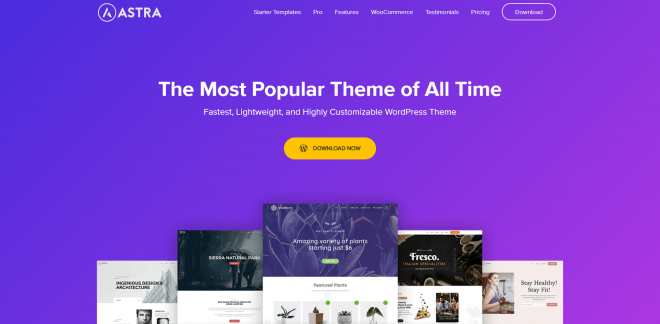 When it comes to e-commerce, a fast loading and lightweight theme can help you boost sales. This is why Astra should be your choice.
Renowned for its super-fast performance, this theme can be a perfect choice as it offers various pre-built demos, with which you can customize without any coding knowledge.
If you want to bring your online store to a higher level, Astra may be your perfect theme. It's an excellent choice because of its fast performance and lightweight features.
Woostify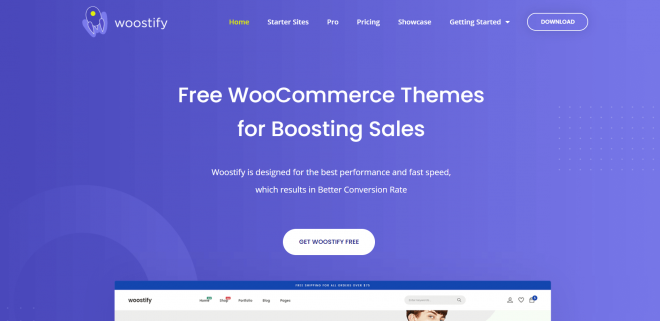 There are many themes having unnecessary features and this puts a load on your website, causing it to slow down. Woostify is fully optimized to turn your website to the smallest size possible, loading as fast as possible, even without any optimization on your side.
Woostify is built with an SEO-ready structure, a clean & optimized source code, offering you the best SEO scores as well as high rank in search results. Built with a completely WooCommerce integration, Woostify theme removes the conflicts between theme & plugins despite WooCommerce updates.
But don't think that because it is light, it doesn't have useful features. It is packed with such features, such as multiple layouts for your product page, cart options, and hover styles.
With the help of this theme and its pre-built demos, you can create your perfect store in no time, with the highest rate of compatibility with Elementor.
Along with these, Woostify supports popular wishlist plugins and it will boost your SEO, thanks to its high coding standards. So it is one of the best free WooCommerce themes in 2021.
All in all, if you are looking for a powerful and at the same time light theme, Woostify could be the choice.
Virtue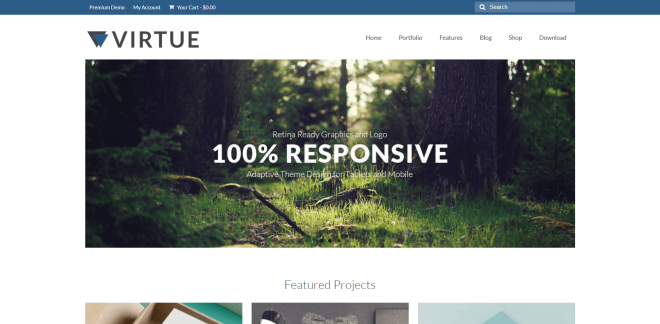 I think Virtue from Kadence Themes is a good example of many free themes that are out there nowadays with premium features.
It is the perfect choice for any blogger or designer who want to set an online shop using WooCommerce platform.
The design of this theme is frankly one of the most modern-looking ones.
Also responsive, it's compatible with WooCommerce using which you can build an online store.
Furthermore, it includes portfolio page options, and this option makes it suitable for any kind of business site.
The options panel is so strong that you can easily control everything, from establishing page layout and slider content, to fonts, and many more options, all with just a number of clicks.
GutenShop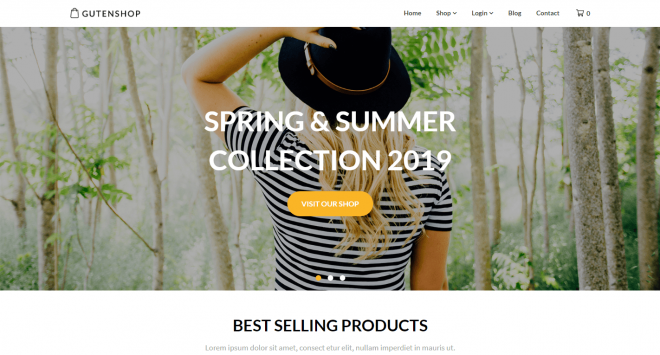 GutenShop is one of the best free WooCommerce WordPress theme appropriate for online shops, online boutiques and webstores.
It's integrated with WooCommerce and you can design your own landing page with the brand new page builder.
Also, you can design and create grids, display your products and add whatever you want to your front page.
In addition, you can use it as a one-page shop too, for example for beauty, women's fashion and clothing, sports, appliances, furniture, kitchen utensils, toys, digital products, etc.
The theme is minimal and responsive, with a flat design and some shadows to make some elements highlighted. It also has a great loading time and it is fully SEO optimized.
GutenShop has a new editor which makes it a multi-purpose theme as well, giving you the option to make any sort of business page or blog you wish.
Finally, it should be said that it is compatible with all screen sizes. One of the best free WooCommerce WordPress themes, you should refer.
eStore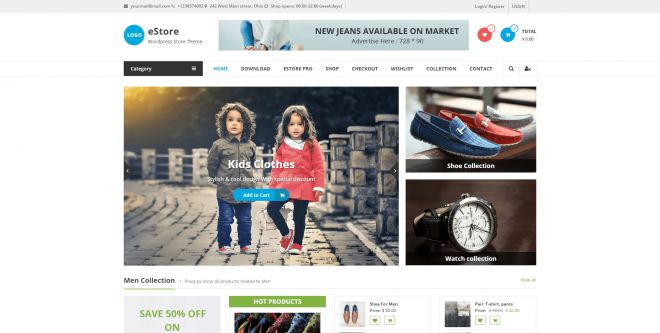 If you are pondering on having an online store and this has not yet come to reality, the eStore theme do this for you.
Its eye-catching design captivates your visitors and its awesome features knock them out.
As one of the best free WooCommerce themes available, eStore has everything you could ever think of – even some more.
In addition to easy access to your contact details, there is a specific space for advertisements, and there are multiple slots for promoting different sales and hot deals.
If you are looking to get the best out of your website, all of the above makes your theme an ideal choice. You will also have a high-functioning search bar.
You can even customize the shopping experience for your customers no matter where in the world they are.
If you're looking for something complete, eStore is the perfect choice. By the way, it's totally free!
Shopstar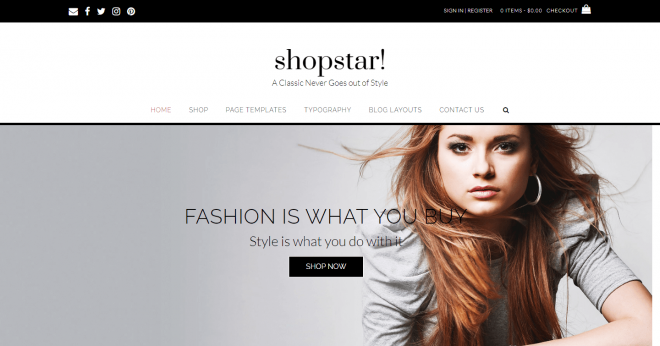 If you get the Shopstar WordPress theme, you will have style, minimalism, and responsiveness at the same time.
With Shopstar, don't worry about the room for your products and showcase. There is plenty of white space you can use.
Especially if you have a fashion website or blog, Shopstar is what you should get.
A great part of this theme is the category showcase button, using which you can customize whatever you need.
Shopstar is fully integrated with SiteOrigin's Page Builder. This means drag and drop instead of coding. Another good news! Contact Form 7 plugin is also integrated with Shopstar.
Buttons for social media can be found towards the top of the theme.
Another thing to say! Shopstar theme is WooCommerce ready, meaning you can add your products to your website within seconds. Shopstar has a full-width template, some translation tools, and two columns, all of which can facilitate your money making process.
Wrap-up
All the themes we've covered in this article are by their own standards smart choices if you are planning on establishing a WooCommerce site.
However, if you are a bit confused and don't know which one to choose, we would suggest thinking about your priorities and choosing one based on them.
If you have any difficulty in setting up your WooCommerce theme, then contact us for free support.