Optimize, optimize, optimize. That's what you should be doing with your website. If you don't optimize, you'll spend more of your time, and more of your money in some cases, creating more content, content that won't convert because you aren't optimizing your site for visitor engagement.
If you don't increase visitor engagement on your site, you won't see as many conversions as you were hoping for when first publishing and promoting new content. Unfortunately, there are a number of different reasons visitors may not be engaging with your site.
That's why we created this list of seven quick ways to increase visitor engagement.
These methods involve implementing small tweaks to optimize your site for engagement, but first, let's talk about why visitor engagement is important.
Why visitor engagement is important
Visitor engagement is important for a variety of different reasons, but the primary reason is conversions.
Every piece of content you create should have a purpose. That purpose is getting casual readers to subscribe to your email list more often than not, but it could also be getting them to buy or download a product.
If visitors aren't engaging with your content or your website, they aren't going to subscribe nor are they going to buy.
You'll spend more time and more money creating and promoting new content for the few that do convert, but if you focus some of that time, money, and energy into optimizing your site for visitor engagement, you'll find yourself with higher conversion rates while spending less.
Got it? Let's get to it, then. Here are seven quick ways to increase visitor engagement with minimal fuss.
#1 Optimize site speed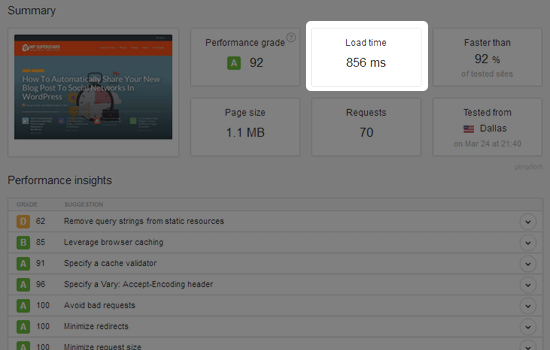 The first thing you need to do is make sure you're optimizing your site for speed. If visitors can't access your site, they won't engage with it. Use a tool like Pingdom to test the load time of your homepage and an individual blog post.
The lower the number the better, but you should aim for a time of under 2 seconds. You can even sign up for an account with Pingdom to monitor your site's speed over time.
There are a number of different steps you can take to optimize your site's speed, steps you can learn more about in our 8 Easy Ways to Speed Up WordPress post, but we'll mention a few here.
For starters, make sure you use a quality host and a server type appropriate for a website of your size. You should also use a caching plugin if your host doesn't offer this service. Check out this post on caching plugins and other tools to speed up WordPress.
One other feature you should highly consider implementing on your site is a CDN. You can use a CDN to create proxy servers all around the world, which visitors can use to access your site in a much quicker way.
You can also serve certain content from a CDN to improve site speed. This includes media items, JavaScript, and CSS. Check out our beginner's guide to CDNs for more information.
#2 Improve user experience
So, once you optimize your site's speed, what's next?
Improving your site's user experience, which, similar to optimizing your site's speed, can be done in a variety of different ways.
The first thing you can do is simplify your navigation to make it easier for visitors to find the content they're looking for. This involves simplifying your site's taxonomy system and cleaning up your WordPress tags. You should also use clean parent categories that are broad and not too specific.
If your site revolves around nothing but content, feel free to place these parent categories in your navigation menu. If you run a business that has other pages, such as a Services page and a Pricing page, create a menu item for your blog, and use the parent categories as secondary menu items.
Becoming a minimalist is another thing you can do to improve your site's user experience.
This means removing the sidebar from your site, adding more white space, removing unnecessary animations and bloated content, and more or less making sure the focus of every page is the content within it.
That said, there are definitely circumstances where it makes sense to keep your sidebar.
#3 Optimize your content
You can also optimize your content in a couple of different ways. If readers are able to access your site and find content easily, they may simply find something about your content to be too off-putting to finish, which means they won't get to your call to action or lead magnet.
Content length may be an issue, for starters. You can solve this by placing a call to action or lead magnet in the middle of your posts, or you can optimize the length of them with a scroll-depth tool.
Use a tool like Hotjar (they have a free pricing tier) to see how far users are scrolling when they read your content.
You can either optimize the length of it to make it as long as that scroll depth or insert your call to action before it.
You should also tailor your writing to your audience. Unless you're writing for government or law professionals, don't be afraid to put more personality in your writing or write in a conversational tone. If you are writing for those types of professionals, keep your writing as professional as they'd expect it to be.
But, don't forget other types of content such as video. Here's why:
Videos are by far the most effective forms of content for visitor engagement. Studies show that the human brain processes visuals nearly 60,000 times faster than text. Consequently, visitors engage better with images and videos compared to text. Video production can typically be a lot more expensive than text and this makes it difficult for publisher to frequently publish new videos for their readers.
That may not necessarily be true always. There are a number of free video editing tools that make it possible for anyone to create and publish professional looking videos on their website.
So, it's worth including video within your content whenever possible, if that's a format that will resonate with your target audience.
The bottom line is you want to keep your readers engaged throughout your post so they make it to the end or at least make it to where you need them to. Pay attention when you read your favorite blogs, and make note of what you like and don't like about the writing style they use.
#4 Insert internal links throughout posts
A great way to get visitors to engage with your content is by encouraging them to read more of it, and a simple way to do that is by linking to relevant content throughout your posts.
It should be noted that this may not be a "quick" way to increase visitor engagement on your site if you don't have a lot of content on your blog. If that's the case, analyze your content, and come up with ways to expand on a topic by publishing an entirely different post about it.
For example, we linked to several different posts we've previously published in the first point of this post.
We suggested speeding up your website and linked to a post that teaches eight different ways to do just that.
We then suggested implementing caching on your site and linked to a post about caching plugins. Finally, we recommended using a CDN and linked to a beginner's guide on the topic.
Find new ways to expand on topics and publish fresh content on your blog, and encourage visitors to read that content through internal linking. You can also place a collection of related posts beneath every blog post you publish.
#5 Ask your readers to answer a question
This one relies on the previous points as it requires readers to get to the end of your posts more often than not. That means they need to be able to access your site, find your content, and be interested in it enough to reach the end.
The reason? It increases the amount of time a visitor stays on your site, and it can help you establish a connection with new readers. It does this by continuing the discussion you started in your post.
The responses you receive may even give you ideas for fresh content.
It should be noted that having your comment section enabled on your site is the best way to encourage reader response.
It makes it as easy as possible for them to respond to your question. You can have them respond via email, social media or a forum but forcing them to jump through hoops may discourage them from responding at all. Do what you feel is best for your audience, and don't be afraid to try out a few different methods.
As for the type of question you should ask, go the simple route, and ask readers to share their own opinions and experiences about a topic.
If you're sharing a story or an experience you've had, ask them if they've experienced something similar, and if they haven't, ask them what they would have done in your situation.
If you're writing a tutorial or writing about a specific topic that's not a personal experience, simply ask them what their thoughts about the topic are. Think critically, and decide which question would generate the best responses.
#6 Write about debatable topics
This point ties into the last one as it encourages readers to answer your question or respond to your post. It involves writing about a debatable topic by rationally discussing each side's point and eventually taking your own side.
Make note of the use of the phrase "rationally discussing." Writing about a debatable topic doesn't mean you should deliberately stir up controversy where it doesn't exist or create drama within a community. It simply involves you sharing your thoughts about a topic people are already discussing.
Some of your readers likely won't share the same opinions as you no matter what yours are.
This is why you should take the time to research the topic thoroughly, read the opinions of both sides, and think critically before coming up with your own conclusions.
Outline the topic thoroughly and give as many details as you can before writing about each side's opinions and the reasons they have those opinions. Share your own opinions once you've written all of that.
Finally, end the post by combining this point with the last point we made. Ask your readers to share their opinions, and ask them what side they're on.
#7 Write about topics your audience cares about
This one isn't necessarily a "quick" way to increase visitor engagement on your site, but it can increase the amount of time new and returning visitors spend on it. It involves finding out what your audience cares about and what problems they're having, both of which can take a bit of time to find out.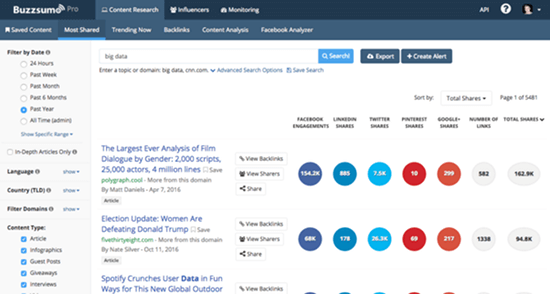 The quickest way to find this information out is by "spying" on your competitors and finding out what's working for them. Use a tool like BuzzSumo to search for specific topics or websites, and find out what posts are getting the most social shares.
This gives you an idea of the types of topics visitors are most likely to share and engage with.
You can also go into your own analytics and see what topics are most popular on your blog or social media accounts. This can give you fairly decent indication of what topics your audience is most interested in reading about and discussing.
There are other ways to find out this information, but they take a little more time. The upside to using these methods is how much of the guesswork it cuts out. These methods involve going directly to your audience and asking them what problems they're having and what topics you should cover.
There are multiple ways you can do this. You can use your email marketing service to send a broadcast email to your entire subscriber base and ask them what problems they're currently having in your niche.
You can even set up a survey to learn more about who individual members of your audience are using a free tool like Typeform.
The most time-consuming method would be to talk to individual members of your audience or niche.
Single out individuals who frequently comment on your posts or engage with you on social media, and ask them what problems they're having and what topics they want to see covered on your blog.
You can even go to forums, Facebook groups, and LinkedIn groups to talk to members of your niche there.
What you're looking for is definitive knowledge about what topics your audience is interested in, not topics they might be interested in.
Not only can it help increase visitor engagement on your site, it may also increase the amount of traffic you receive on your site.
Final thoughts
There's a lot you can do to increase visitor engagement on your site, as you can see, but what you may have also noticed is how much these points revolve around what you can offer to your audience, not necessarily what they can offer to you.
There are over one billion websites in the world. You can't stand out from the crowd if your site is slow, difficult to use and filled with too many distractions. Start by analyzing your entire site and page speed scores, and determine ways to make it faster and easier to use.
Once you optimize that part of your website, you can focus your attention on finding ways to make your content more engaging and something your audience would want to read and discuss further.
Finally, you should come up with some sort of goal you want to reach by increasing visitor engagement.
Do you want more email subscribers? Do you want more followers on social media? Do you want more people to buy your products?
Come up with a goal, and make sure the methods you use are designed to help you reach it.
@wpsuperstars.net